Best Price
If you can find your holiday available to book cheaper elsewhere online, we'll match the price at the time of booking. Please see below for full details and terms.

Great Service
Our highly experienced and friendly Reservations Team can help you plan your perfect holiday. Our Team knows the park inside out!

Best Choice
We have the full choice of holiday homes available, and you can even pay a small additional charge to guarantee a specific number. You can't do that with anyone else!

Least Hassle
You can book your holiday and add on optional extras, like early check-in or half board, all at the same time. We can take care of everything for you and provide immediate confirmation.
Best Price Guarantee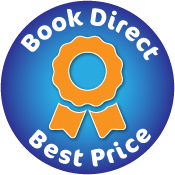 We want you to be confident that you'll get the best price by booking directly with us. That's why we'll match the price if you can find your exact holiday cheaper elsewhere online at the time of booking.
Simply call us before you book and tell us on which website you have seen the better price.
We will verify that the lower price is still showing, available to book, and meets the terms below.
If all is in order, we'll apply a special Price Match Discount to your booking.
As prices change all the time, we can only honour this discount if you wish to go ahead and make the booking straight away. We are, therefore, also unable to hold a booking provisionally and apply a Price Match Discount to it. So please do ensure that you are ready to make the booking at the time you call us.